A beautiful warm house to share with family to celebrate Rob's 70th Thank you for everything.
Thank you for a beautiful stay at this cozy cottage. Great location, having the fire place stacked ready to go was a teal tread. Thank you
We are reluctant to leave your cosy house Mandala. We have loved our stay! Here, it has been so cozy Love the window peat and the view over the water.
Plenty of space to chill out. The house, the bath, the shed was comfortable. So much to do on Bruny. 
Thank you for everything. 
See you again
We absolutely loved our stay here at Mandala. This home is so cosy and accommodating. We will definitely be back to create more memories. Thank you so much
Wonderful stay as always. Very comfortable. Children love the cubby house.
Loved our stay in your beautiful home. Thank you for thinking of everything ! 
Marce, Ten, kez & Annie.
Anne & I have had a Fabulous time for the 2nd time and a Couple of months ago to our girls escape. This dearly cottage is perfect in design and decor. It is perfect for a girls getaway. PS. We will be back
Fantastic house ! Loved our stay. You have thought of everything! So well appointed. Heaps of Kitchen utensils, towels, soap, room! the list of plusses is infinitive. Thank you Kathy, Lonnie xx.
Thank you for the perfect space for our family to have a weekend together. So many thoughtful touches made our stay so very delightful.
An absolutely beautiful home for our group of 7. The nearby beach was a lot of fun, the fire was toasty, the table tennis was a hit and I couldn't recommend the cosy home any higher! Thank you for having us.
Thank you for making our Weekend Amazing, House was great, Kids loved the games room. We will be back, thank you again.
Outstanding accommodation – everything plus more is here in this lovely cottage. Weather was bleak – heavy snow all over Tassie plus plenty of rain – but we were warm and  card games to play with great views! Recommend the Mavista Nature Wall (45 min).
Amazing! Thank you for allowing us to stay – and enjoy a wonderful family weekend away. So many things to love about this place! Such a Special Place – relaxing and every need thought of.
What a Stunning home to be able to stay at. Have had a lovely o relaxing time here and hope to return again very soon. Thank you so much Wina for all your help and having the fire going for my arrival.
Thank you for a beautiful and wonderful holiday home. Our first trip to Bruny Island and have had a fabulous relaxing time with my girl friends. 
Fabulous escape from work & Covid-19.
It is delightfully a home away from home. We have all fallen under the charm of Bruny Island. I can't believe it has taken So many years for my first trip to the Island off the Island, best birthday Surprise and to spend time with our growing family. Thank you so much 
Thank you for providing my family with such a wonderful place to hang out and reconnect. It was tough to leave Mandala to sight see Bruny due to feeling so relaxed in Mandala's Serenity. We made most of the fully functional kitchen and enjoyed delicious home cooked goodness The children loved the games area outside.
We will be back !!!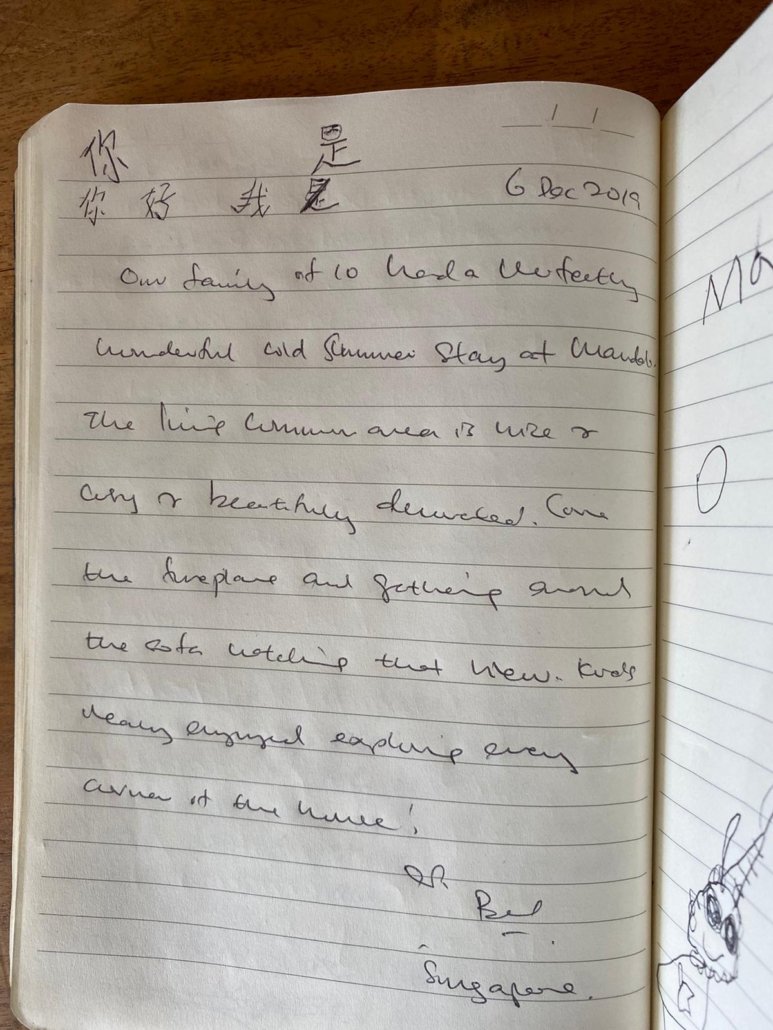 Attention to detail was fantastic!, very child friendly, personal touches, comforts, we had an exceptional time!
Quiet area with a relaxing vibe in front of a wood fire heater. All the amenities you need on holiday
We absolutely loved staying here and will be recommending it to our family and friends. The house was spacious, and you were able to close the bedroom section off it people where still in the lounge/dining area. Which was perfect if you wanted an early night. The view from the bedroom and being able to see the ocean was amazing. You walk across the road and your at a rocky area and the ocean. It was close to all the eateries and the property was so quiet and peaceful. Loved the wood heater and how it warmed the whole house up. The property being pet friendly was fantastic, it allowed us to take our fur baby and enjoy a few nights away. Would love to come back in summer and stay again!