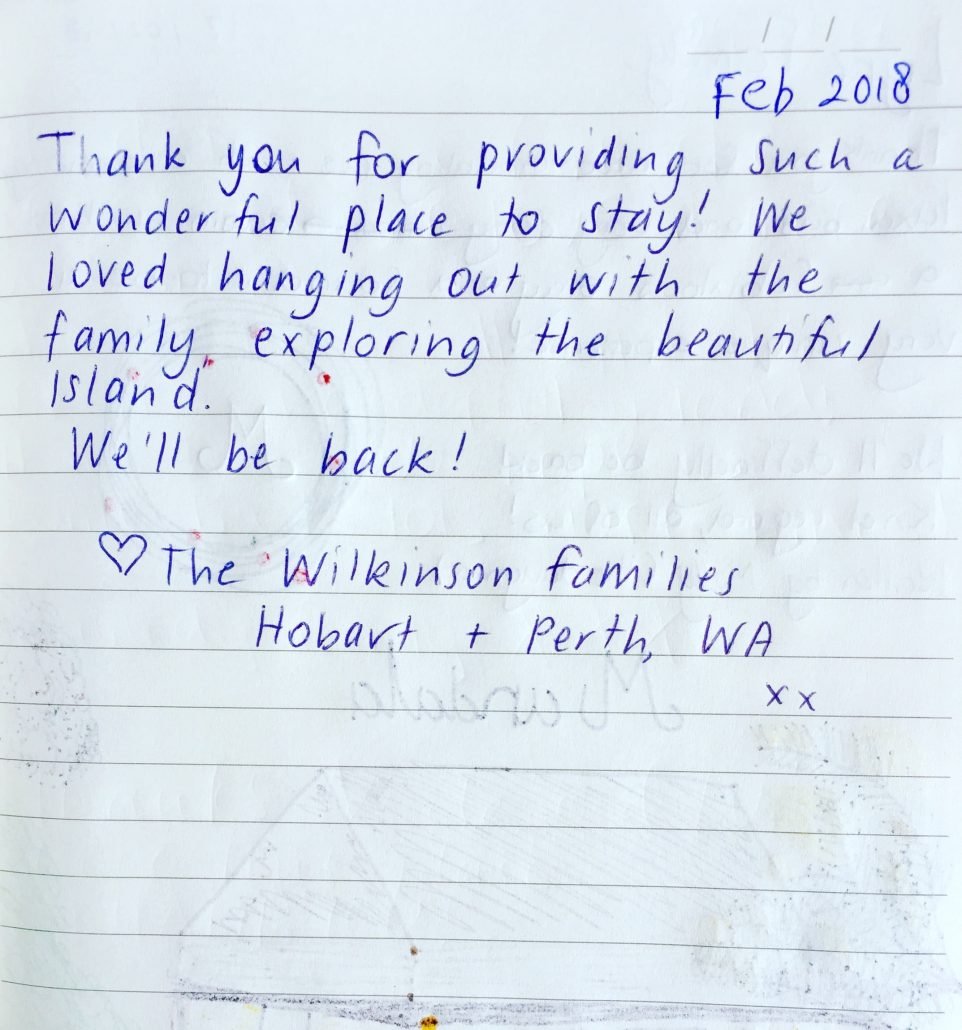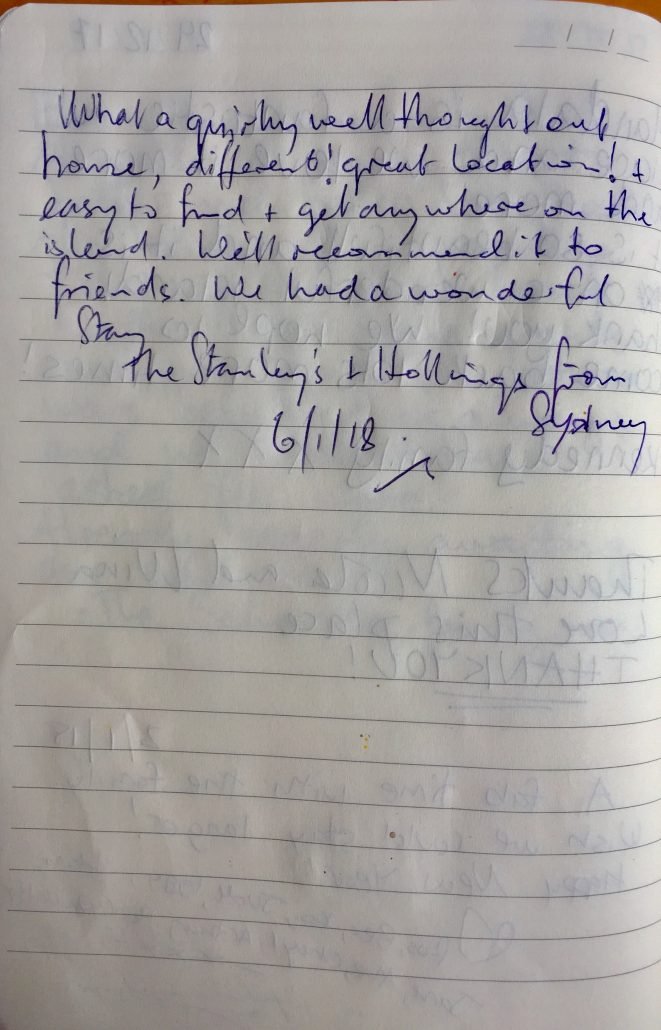 Mandala is a wonderful holiday house – from the interesting & unusual antique fitting through out to the lovely wall hanging, beautiful antique doors, floors and windows also special personal touches such as the wooden timber cupboard door hiding shelves in bathroom – WOW – how clever. We love everything & felt " At Home" as we walked thru the door. A truly relaxing home & a wonderful "Get away"  Thank you .
Managed to get 2 nights away this time but still not long enough! The only fishies biting were big cod off the Lunawanna jetty – had to resort to steak for dinner! Good meal at pub Friday night.
Perfect. We loved our stay so very much. A home away from home. We really love the use of recycled materials through the home. So comfy. Everything we needed and more. We will be returning.
This house is so awesome, fully equipped with things I didn't even think of! So homely, so practical, so beautiful. Really appreciated the manuals on everything. Definitely be back with the family. Hot tip: Adventure Bay Jetty, squid galore on a
lucky day = lots of calamari for dinner … yum!
Great setting – perfect for a much needed break. Loved the house & the views. We'll be back.
Lovely family house. Peaceful setting. Good entertainment for kids (except TV too complicated to get going) [now replaced]. Enjoyable time spent on a lovely island.
On behalf of our group (13) we complement you on an outstanding house in the most picturesque environment. The facilities have been perfect, except maybe the TV setup [now replaced]. We found Bruny a most peaceful and interesting place to stay
We loved Mandala! We escaped for the show long weekend and had sun, wind, rain, hail and snow in 48 hours. We found the TV / stereo a little tricky [now replaced]. Would love to come back. Thank you. ~ Hobart, October 2006 Our last stop in Tassie and easily the best house (but we loved the others as well!). The kids really appreciated all the things to do – my complaint is that we had to drag them out of the house! The Adventure Bay sea tour is breathtaking – huge Southern Ocean swells providing incredible drama – especially at the Friar Islands. Thousands and thousands of shearwaters, and hundreds (yes hundreds) of dolphins. All topped off with seals and albatross. The jetty beach / peninsula walk is also a feature with its wild flower display and the friendliest young echidna we had ever seen. The kids were entranced. We've had every type of weather except snow (though it's in the mountains today) but the house has kept us warm, dry and very much at home. Thanks for being so generous with the inclusions – we'll be back sometime.
A wonderful place … extremely comfortable, warm, great ambience & so much stuff to make you feel so at home. Really didn't want to leave. We hope to visit again soon. Thank you for making this available for others to enjoy!
What a wonderful place, we had such a relaxing stay with defiantly be back. Thank you